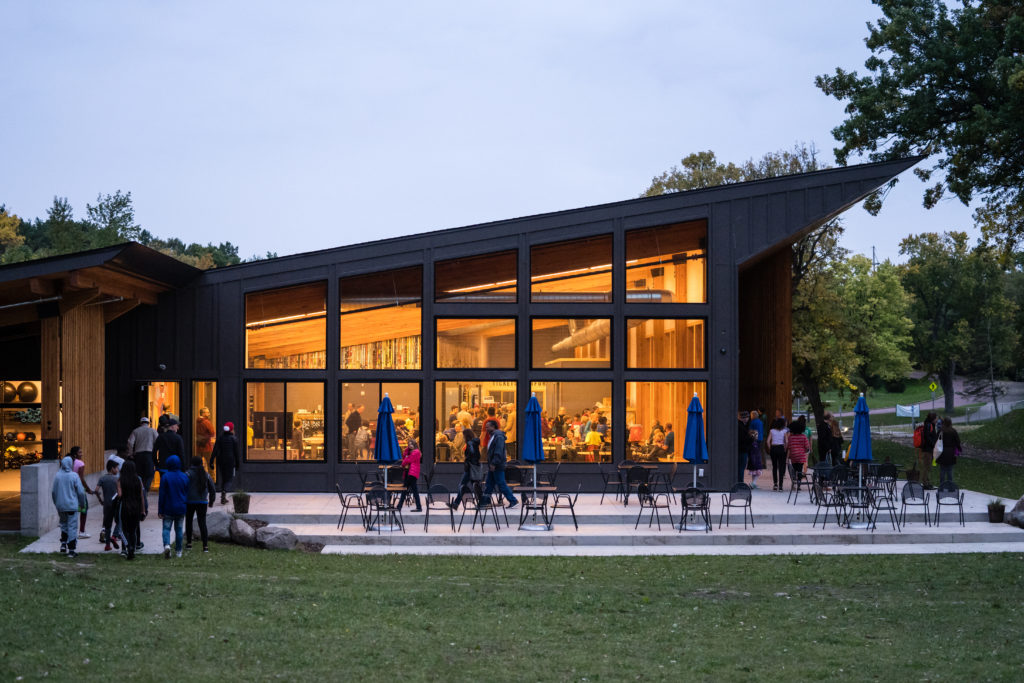 In the heart of the city, The Trailhead is surrounded by the outdoors and energized by people. Within minutes of downtown, you will find yourself full of the spirit and vivacity of Theodore Wirth Park. From within the Great Hall, views of bikers flying over jumps on the singletrack trails and skiers racing down the ski trails are right out the back wall of windows. Fill your event with the inspiration of adventure.
What space is available to rent?
Ryan Map Room – Fits 15 – 20 people
1/3rd Great Hall – Fits up to 30 people
2/3rds Great Hall – Fits up to 60 people
Full Hall – Fits up to 210 people seated
Sample Layout Options
Contact permits@loppet.org for more information.
Events that We Host
We host a variety of indoor and outdoor events at The Trailhead in Theodore Wirth Park. Contact us to help you plan your next…
Social or Corporate Event/Retreat
Familial or School Reunion
Wedding Ceremony & Reception
Birthday Party, Quinceañera, Bar/Bat Mitzvah
Memorial Service
Large Group Picnic
Themed Event – skiing, tubing, snowboarding, hiking, mountain biking, service projects, etc.
Weddings
Featured in Minnesota Bride and named "one of Minneapolis's most unique wedding venues" by Lavender Magazine, The Trailhead in Theodore Wirth Park is the perfect spot for your wedding, especially if you and your new life partner love the outdoors! The amazing trails, bridges, and skyline views will make a beautiful backdrop for your photos no matter the season.
Start your celebration in one of our several beautiful outdoor locations for ceremonies – from the narrow pathway lined with tall timber columns along the building's south side, perfect for a small ceremony, to more private green spaces of the park.
After the ceremony, bring the beauty of the park inside to the celebration. Our reception space, the Great Hall, has Douglas Fir beam structures and ceilings, beautiful custom wood tables, and two entire walls of windows that enhance the natural feel of the venue. There is also a grass lawn adjacent to the outdoor patio, which provides a wonderful area for guests to enjoy outdoor games.
Photos
Testimonials
"Caleb and I were the first couple to use the space for a wedding, and we were so happy with our experience. I'm pretty sure we had a lot of specific requests and The Trailhead staff were responsive and helped us with everything we needed. They were willing to work really closely with us leading up to our wedding weekend, and on the day of the wedding, the staff was on top of everything. And they are just the most lovely people on top of that! Definitely would recommend this beautiful space and this lovely crew to help put on your big day. So lucky to have this in the city!"

– Emma
Pricing and Permit Application
For information on pricing please check out our pricing and fee schedule: Spring/Summer/Fall and Winter. All events hosted at The Trailhead require a permit application, please contact permits@loppet.org for next steps.
FAQ
Looking to learn more about venue rental at The Trailhead? Check out the FAQ here.