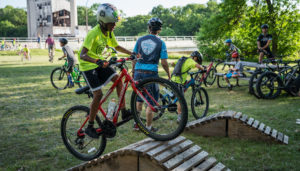 The Mountain Bike Camps are part of the Loppet Foundation's Trail Kids year-round programming.
Trail Kids offers nine weeks of half day (8am – 12pm) mountain bike camps for beginner to advanced riders ages 7-13 (for programming for 13 and older, check out LCW Juniors programs). Participants will explore the single-track trails at Theodore Wirth Park while gaining skills they can use for a lifetime! The focus of the mountain bike camps is to have fun, meet new friends, and build confidence riding the singletrack trails. Participants will learn in teams with others with similar ages and prior experience. Non-binary and trans participants are welcome to join any group in which they feel most comfortable. Trail Kids mountain bike camps will be instructed by trained coaches teaching mountain bike skills, games, orienteering, and singletrack riding on the many trails at Theodore Wirth park.
Equipment Needed: All camp participants will need their own mountain bike, helmet, and water carrier (camp will provide a Trail Kids T-shirt and water bottle at no additional cost). Bikes need to have both front and back wheel brakes on the handle bars (no peddle brakes or kickstands allowed). Tires must have tread and be wide enough to ride safely on mountain bike trails. For more on mountain bike equipment, view the Trail Kids MTB Equipment Guide.
Loppet Bike Rentals: Trail Kids has a limited mountain bike rental fleet for those who do not have one for an additional fee of $30. If you need to rent a bike, make sure to select this add-on when you register (as supplies last).
Friend Requests: For safety and equity reasons, Trail Kids does not offer friend requests as part of registration. The mass quantity of friend requests made it impossible to accommodate them all and greatly impacted safety and group dynamics. We would love to allow everyone to practice with their friends, but if we cannot accommodate all friend requests, we cannot offer them to everyone. We encourage riders to embrace the opportunity to form new friendships through our programs!
Registration Information
Lottery Registration *New for 2023*
Due to increasing participant demand and our desire for a more equitable registration process, Trail Kids has moved to a lottery registration system. The Lottery registration window for MTB Camps will be open from January 16, 2023 at 9am. Lottery selection will take place on Wednesday, March 1, 2023 at 9am. If selected from the lottery you will be notified by the end of the day on March 1, 2023. You can submit your registration entry any time within this window. There will be a separate lottery for each week of camp. Selected participants will be automatically notified on March 1 at 9am and you'll have 48 hours to accept the spot and complete the registration process. Good news! Once lottery selections are complete, the participants not selected will be automatically added to a waitlist, and you'll be notified right away if a spot has opened up for you.
Registration FAQs: For answers to many common registration questions please visit our Registration FAQ page
Camp Descriptions
Camp Registration by Ability/Experience
We offer beginner and intermediate/advanced camps on different weeks so we can keep all participants challenged based on their riding skills. Beginner camps are designed for participants who have not taken any of the Trail Kids past programs and are new to mountain biking, or are still learning the fundamentals. See below for descriptions of camps and make sure to read through the Mountain Bike Ability Group Registration Guide before registering your child. If your child is new to Trail Kids programs but has prior experience in mountain biking that fits the intermediate/advanced biking skill levels then feel free to register them for the intermediate/advanced camps.
Beginner Mountain Bike Camp Description
If your child is a true beginner rider with no experience, they should sign up for the beginner clinic. During the beginner mountain bike camp, the participants will be coached on a variety of fundamental mountain bike skills, so they can become safe and confident riders. Skills include:
Ready/neutral position for descending hills
Side/side bike body separation
Pedaling/shifting efficiently
Controlling speed and braking safely
Cornering confidently
Riding with vision
Participants will be tested at the end of the camp on the level green bike skills and will be able to move up in levels as they progress through the summer programs and camps.
Intermediate/Advanced Mountain Bike Camps
Those who have taken a past camp or Trail Kids program and have passed the green, blue, or black mountain bike skill levels can register for the intermediate/advanced bike camps. The intermediate/advanced mountain bike camps will focus on more advanced bike skills along with riding more of the difficult single track trails around Theodore Wirth Park. If your child is new to the Trail Kids program but is an intermediate to advanced rider that meets the descriptions in the Trail Kids MTB Skill Level Guide, you are welcome to register for the intermediate/advanced camps.
2023 MTB Summer Camp Dates
The Lottery registration window for MTB Camps will be open from January 16, 2023 at 9am. Lottery selection will take place on Wednesday, March 1, 2023 at 9am
Days/Time: Monday through Friday 8 AM – 12 PM
Location: The Trailhead (meet at team flags east of the Trailhead)
Cost: $290
Rental Bike Add On: $30 (limited stock, rental bike add-on NOT guaranteed)
Equipment needed: Mountain bike, helmet, and water bottle carrier *must meet guidelines in the Trail Kids MTB Equipment Guide
2023 Dates
Beginner Mountain Bike Camp: June 12 – June 16
Beginner Mountain Bike Camp: June 19 – June 23
Intermediate/Advanced Mountain Bike Camp: June 26 – June 30
Beginner Mountain Bike Camp: July 10 – July 14
All-Girls Mountain Bike Camp: July 17 – July 21
Intermediate/Advanced Mountain Bike Camp: July 24 – July 28
Beginner Mountain Bike Camp: July 31 – August 4
Intermediate/Advanced Mountain Bike Camp: August 7 – August 11
Intermediate/Advanced Mountain Bike Camp: August 14 – August 18
Register Here!
Payment & Financial Assistance Information
Registration Guide
Registration based on ability: All participants who attend the program must be able to ride their bikes safely on paved paths. When registering your child make sure to indicate their ability level as described in the Mountain Bike Ability Registration Guide.
Financial Assistance and Sibling Discounts
Financial Assistance: Trail Kids provides financial assistance for those in need, up to 100% of the registration cost. To apply, please fill out our Trail Kids Financial Assistance Application. We will follow up with you with instructions on how to register at a price that is manageable for your family. Applications for programs that start two weeks or less from the date of submission will not be approved.
Sibling Discount: For those families who have three or more kids in the program we will given a fifteen percent discount code. Please email trailkids@loppet.org for more information.
Refund Policy
The Loppet will issue a full refund of the program fee minus the original processing fee up until 6 weeks before the program starts. Between 6 weeks and 4 weeks from the program start date, a 50% refund will be issued. Between 4 and 3 weeks from the program start date, a 25% refund will be issued. There are no refunds for any cancellations within less than 3 weeks of the start of a program. During the program, if your child has a medical issue that makes it impossible to participate, we will issue a prorated refund minus the processing fee. If the Loppet cancels a program, a full refund will be issued. For instructions on how to request a refund, click here.